New Organizational Structure of Asia TOP 100 GCSC Appeared
The 2016 Asia Top 100 Golf Courses Award ceremony organized by Cloud Golf and Aligolf was perfect ended at 27 Feb. 2017 in Seoul, South Korea.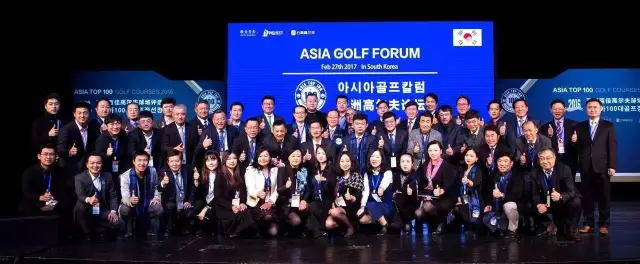 The announced Asia Top 100 Golf Courses list attracted enthusiastic attention of golfers all over the world that made golfers from other countries know more about Asia golf, select the Asia golf destination more independently and experience the most outstanding golf courses in Asia. It also makes theholiday experience more valuable.
(L→R)Taiying Li(Tiger), Li Ang(Leon)For the principles of openness, fairness, impartiality, the founder of Asia Top 100 Golf Courses Selection, Aligolf's CEO, Mr. Li Taiying(Tiger) announced the system of "Sectary-General in Asia Top100 Golf Courses Selection Committee(GCSC) will be on duty in turns" at the award ceremony. Meantime, the organizing committee architecture will be regulated forthe job requirements of the new sectary general. So the selection will be moreequal, more diversified and more innovative. At the end of the award ceremony,Tiger, the incumbent Sectary-General, turned over the position to Mr.Li Ang(Leon), the co-founder of Cloud Golf. Leon is officially as the Sectary-General of Asia Top100 GCSC. The former and new sectary generals proposed a toast to all the guests in ceremony after the announcement.